The PESTLE Framework 
The PESTLE framework is a tool used to analyze the macro-environmental elements that have an impact on your company.  This framework allows companies to get specific and form a deeper understanding of the factors that may be impacting their business in one way or another.  The 6 key external factors of PESTLE include political, economic, social, technological, legal, and environmental.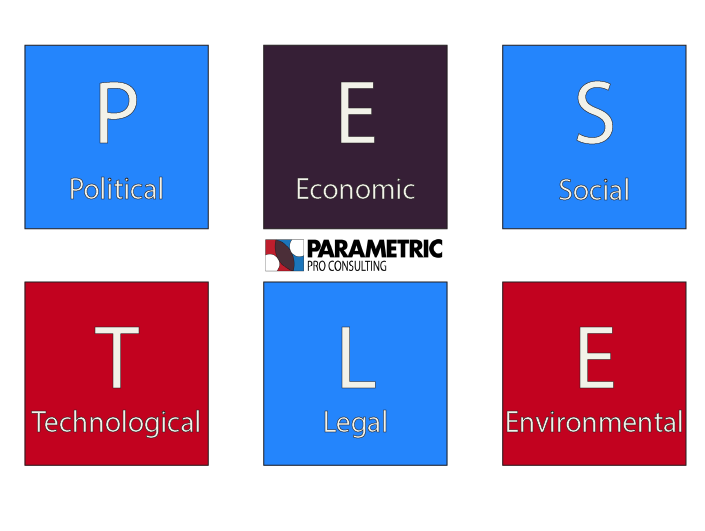 Political Factors
Political factors are driven by government actions and policies over the economy or industry.  These elements may be legislation or economic policies.    
Political factors include tax policy, trade restrictions, bureaucracy and tariffs.
Economic Factors
Economic factors account for the distinct aspects of the economy, and how these aspects have a direct impact on business. 
Economic factors include economic growth, exchange rates, interest rates, inflation rates, disposable income, and unemployment rates 
Social Factors
Social factors relate to the cultural and demographic trends of society.  Social norms and pressures are key to determining consumer behavior.  
Social factors include population growth rate, age distribution, career attitudes, lifestyle attitudes, and cultural barriers.
Technological Factors
Technological factors refer to innovations in technology that may affect the way the industry operates, and the market favorably.  Innovations in technology have substantial effects on the market and consumer choices and buying power.
Technological factors include the level of innovation, technology incentives, technological awareness, and the rate of change in technology
Legal Factors
Legal factors pertain to any legal forces that define what a business can or cannot do. Legal factors don't only help your company grow, but they can also prevent it from being destroyed.  
Legal factors include industry regulation, licenses & permits, labor laws, and intellectual property
Environmental Factors
Environmental factors are factors that relate to the physical environment and the ecological impacts on businesses.  Changes to our environment can present both material risks and opportunities for companies. 
Environmental factors include weather conditions, temperature, pollution, natural disasters, and climate change.
 
Conclusion
The PESTLE analysis is a strategic framework generally used to analyze the business environment in which a firm operates.  This framework allows companies to get specific and evaluate the key elements that shape their business.  The key elements are Political, Economic, Social, Technological, Legal and Environmental.  Understanding each factor and how they relate to one another is key to any consultant's success.  
If you liked this post, please consider sharing it with your network!
Check out our Marketing Starter Kit for more marketing information.
Want to learn more and see how we can help your business? Book a free consultation call.
Are you interested in the consulting industry? Parametric Pro Consulting Foundations offers more in-depth knowledge on this article as well as several other topics to prepare you for a career in business and consulting. Check it out here!